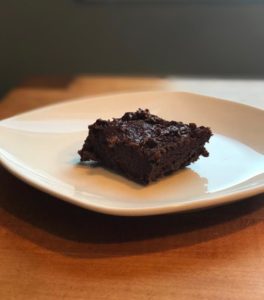 You blink your eyes and two months have flown by. As my career is currently up in the air and the job search continues, I'm finding myself baking. A lot. It can be a dangerous hobby, but I am trying to get creative with my sweet tooth and find slightly healthier versions of traditional treats. I recently found this flourless brownie recipe on the ever amazing internet using none other than my favorite food, SWEET POTATO! I was excited to try it out but was slightly disappointed by the outcome as it did not yield a brownie-like product. I cooked it 8-10 minutes longer than the recipe called for, and it still did not form the brownie-like consistency. I then put it in the fridge after it cooled and hoped it would harden a little more.
After I gave it a taste, I realized what it really resembled was closer to fudge. Really, really good fudge!
So, lesson learned, when something does not go as planned, think creatively and just put another name to it! I did not follow the exact recipe, but close enough. Here is how I made this delicious fudge:
Ingredients:
Coconut oil to grease pan
1 c. mashed sweet potato (previously baked, obviously)
1/2 c. peanut butter (smooth)
2 tbsp. maple syrup (the real/pure stuff)
1/4 c. cocoa powder
A handful (but really unmeasured amount of) semi-sweet chocolate chips*
*Next time I am either going to try it with carob chips like the original recipe calls for (to cut down on the sugar) or with dark chocolate (because it is my favorite).
Directions:
Grease a small cake or loaf pan with coconut oil and *preheat the oven to 350º
Melt the peanut butter and maple syrup together on the stove (be careful to not put the heat on too high as it could burn quickly). Low and slow heat while stirring constantly. When it is warm and melted together, pour into a medium-large bowl or mixer.
Mix mashed sweet potato and cocoa powder in the bowl with the melted peanut butter/maple syrup mixture.
Fold in chocolate chips.
Pour mixture into greased pan and bake for 25+ min. or until cooked. (Although it will not get to a "bread-like" state where a knife will come out clean in the center, so keep that in mind.) <- And if you figure out how to do so with this recipe, tell me how.
Remove from the oven and allow to cool completely before slicing and refrigerating and/or freezing.
Enjoy (best enjoyed with a nice Earl Grey and a positive mindset)!
*It might be interesting to try this without baking it in the oven at all as there are no ingredients that need to be cooked any further than they already are in order to be ingested. Just putting the batter in a lined or greased pan and freezing or putting it in the fridge overnight. However, I think baking it in the oven gives it a slight "baked" edge, which is kind of nice.
Until next time, world!
Love + Happiness,
xo, Meg.